HNC808XP CNC Controller
HNC808XP is a 2 or 3 axis CNC Controller.
With 7-inch color LCD display.
Support pulse signal.
Support absolute servo motor.
Compatible with pulse instruction servo drive.
Used for 2-3 axis CNC lathe machine or CNC milling machine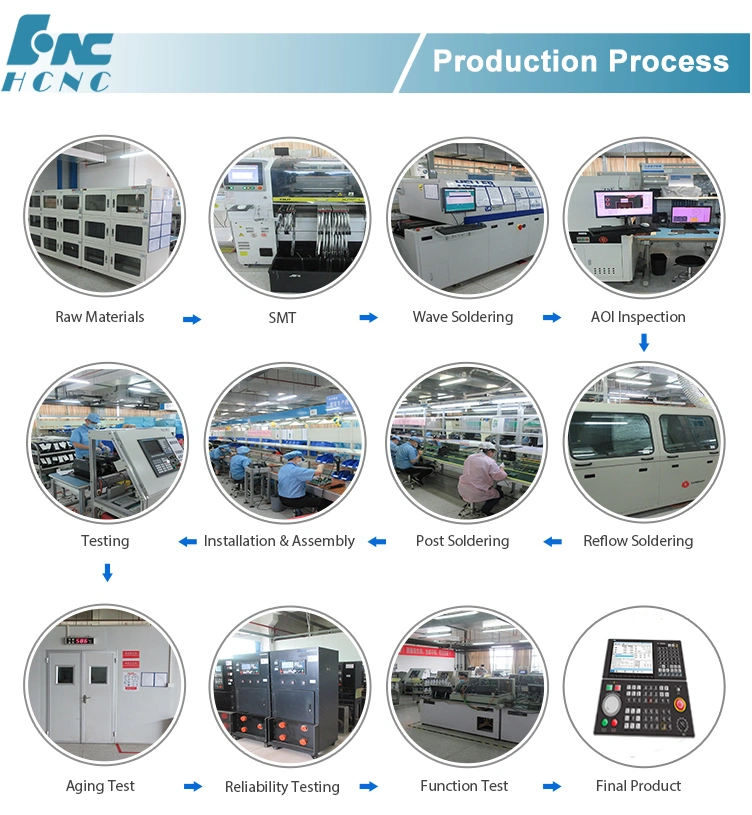 What can you get by purchasing it?
Service response within 24 hours
INC cloud provides remote diagnosis and monitoring

Local or remote service supported by engineer with fluent English or Local language
Support return policy
Support return within 12 months' warranty.

Complete replacement within 40 working days.
Excellent quality
Constant temperature production workshop

5 strict production test before final product
Good reputation
Powered by HCNC group since 1958, stock market:300161

Endorsement by our customers.

Favorable price
Make sure to give you an economic solution with cnc controller kits including servo drive, servo motor, spindle motor.

Get a quotation; send an message NOW!
Features of HNC808XP CNC Controller
1. Configured with switch-value input (32) and output (24) interfaces
2. Simulation spindle control and encoder interfaces
3. Adopting 7 -inch monochrome or color LCD (resolution: 320 x 240)
4. Providing USB interfaces to achieve easy and fast data access
5. Providing 400 KB (expandable by using a CF card ) Flash RAM power-off storage and 32 MB RAM buffer
6. System overall dimensions for: 420 x260x126 mm (H * W * D), small size, solid structure, beautiful appearance.
Functions of HNC808XP CNC Controller
CNC function

Maximum controllable axes: two feed axes and one spindle
Maximum coordinate axes: two axes

Minimum resolution: 1μm

Automatic acceleration and deceleration (straight line and S curve)
Returning to reference point
Setting coordinates
Graphic simulation of machining process and real-time tracking
MDI functionn
M, S, and T function
Graphical static simulation and real-time machining tracking
Secondary internal electronic gear
Secondary internal electronic gear
Simple circular turning
Compound circular turning

CNC programming function

Minimum programming unit: 0.001 mm
Maximum programming size: 999999.999 mm
Maximum programming lines: 200000
Metric /British programming
Absolute/incremental programming
Macro instruction programming
Calling subroutine
Setting work piece coordinates
Diameter/radius programming
Automatic control of chamfering (round angle, right angle)

Constant linear velocity (CLV) cutting

Interpolation function

Line interpolation for a maximum of three axes

Circular interpolation
Thread cutting

Tool compensation function

Tool length compensation
Tool radius compensation

Operation function

7-inch TFT color display
Anti-static electricity program and machine operation panel
Standard PC keyboard interface
Hand-held units (optional)
Graphic display and dynamic real-time simulation
Network communication (optional)

Feed axis function

Unrestrained axis rotation function
Maximum specified speed: 21000 mm/min
Feed speed override: 0% to 150%
Rapid movement speed override: 0% to 100%

Various modes of returning to the reference point: single direction and bi-direction

Spindle function

Spindle speed: specified by PLC programming (Maximum speed: 60000 rpm)

Spindle speed override: 0% to 150%
Displaying spindle speed and override

Variation ratio and variation ratio level: specified by PLC programming

Auxiliary function

Spindle CW/CCW n
Automatic tool change n
Cooling on/off

PLC function

Build-in PLC
Standard PLC sample
Displaying PLC status