-Data Sheet
* Specification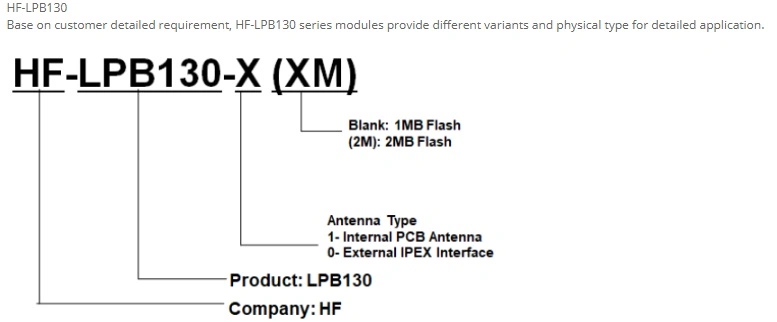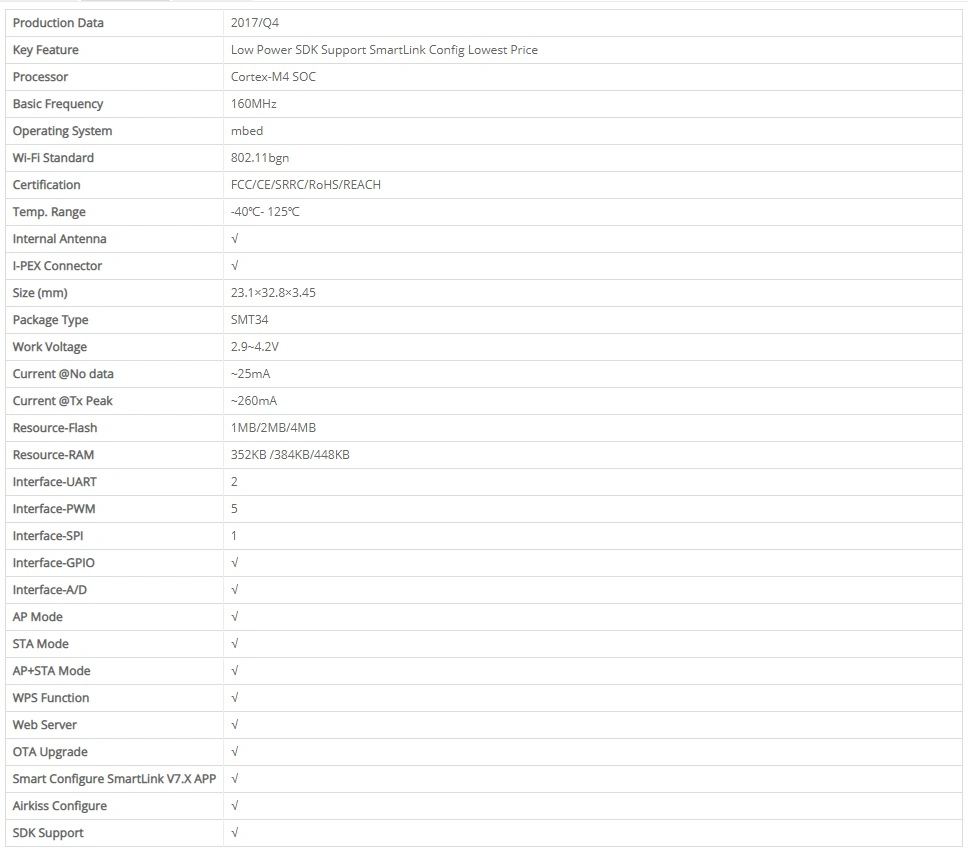 * Description

Class
Item
Parameters
Wireless Parameters
Certification
FCC/CE/SRRC/RoHS
Wireless standard
802.11 b/g/n
Frequency range
2.412GHz-2.484GHz
Transmit Power
802.11b: +16 +/-2dBm (@11Mbps)
802.11g: +14 +/-2dBm (@54Mbps)
802.11n: +13 +/-2dBm (@HT20, MCS7)
Receiver Sensitivity
802.11b: -87 dBm (@11Mbps ,CCK)
802.11g: -73 dBm (@54Mbps, OFDM)
802.11n: -71 dBm (@HT20, MCS7)
Antenna Option
HF-LPB130:
Internal: PCB antenna
External: IPEX antenna
HF-LPT130A:
Internal: Copper Line antenna
External: IPEX antenna
HF-LPT230:
Internal: PCB antenna
HF-LPT330:
Internal: PCB antenna
HF-LPB135:
Internal: PCB antenna
External: IPEX antenna
Hardware
Parameters
Data Interface
UART
GPIO,SPI
Operating Voltage
2.9~4.2V
Operating Current
Peak (Continuous TX): 260Ma
Average(STA, No data): 25mA
Average(STA, Continuous TX): 32mA
Average(AP): 80mA
Operating Temp.
-40ºC- 125ºC
Storage Temp.
-40ºC- 125ºC
Density
<85%
Dimensions and Size
HF-LPB130:
23.1mm x 32.8mm x 3.5mm
HF-LPT230:
22mm x 13.5mm x 3mm
HF-LPT130A:
22 mm x 14.3mm x 8mm
HF-LPT330:
24 mm x 16mm x 3mm
HF-LPB135:
41.3mm x 24.1mm x 6mm
Software Parameters
Network Type
STA/AP/AP+STA
Security Mechanisms
WEP/WPA-PSK/WPA2-PSK
Encryption
WEP64/WEP128/TKIP/AES
Update Firmware
Local Wireless, Remote OTA
Customization
Support SDK for application develop
Network Protocol
IPv4, TCP/UDP/HTTP/TLS(SDK)
User Configuration
AT+instruction set. Android/ iOS
Smart Link APP tools
Why choose us?
* Specilaze in IC for around 14 years
* 100% Tested before sale
* Cooperate with over 35 famous brands from domestic and international market
* Competitive and reasonable price
* Abundant inventory and short lead time about 3-7 days
* 1 Year warranty
* 24hrs supports from our sales and R&D team
Notes
* The pictures are taken by camera.
* You can contact us for a better price.
* Feel free to contact us if you would like to see other models.