LED SMT Reflow Oven
Model: T-962A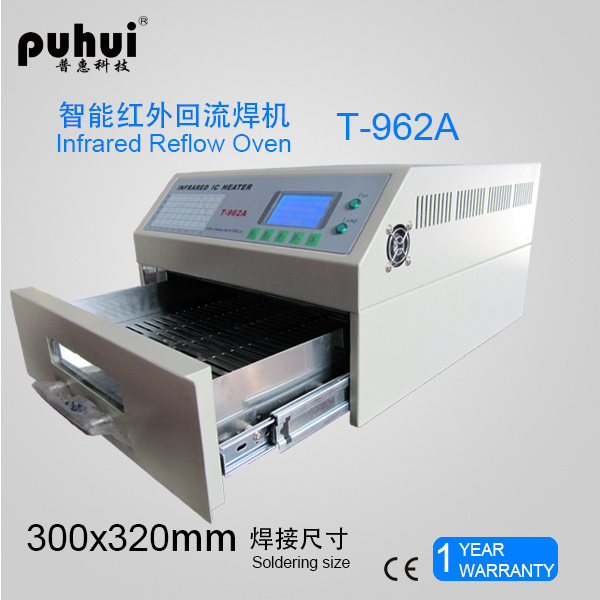 T962A Description
The INFRARED IC HEATER T962A

is a micro processor controlled reflow oven. It can be used for effectively soldering various SMD and BGA components. The whole soldering process can be completed automatically and it is very easy to use. This machine uses a powerful infrared emission and circulation of the hot air flow, so the temperature is being kept very accurate and evenly distributed.
A windowed drawer is designed to hold the work piece, and allows safe soldering techniques and the manipulation of SMD/BAG and other small electronic parts mounted on a PCB assembly. The T962A may be used to automatically rework solder to correct bad solder joints, remove/replace bad components and complete small engineering models or prototypes.
Technical parameters
Machine

INFRARED IC HEATER

Model T-962A

Power Voltage

AC220V/110V 50-60Hz

Mode Of Heating

infrared emission and circulation of the hot air flow

Rated power

1500W

Cycle Time

1

-

8 min

Mode Of Controling

8 Intelligent temperature waves heating

Temperature Range

0-280

Soldering PCB Area

300X320mm

Package

Dimensions

430X370X260mm

Package size

510X330X450mm

Weight

15Kgs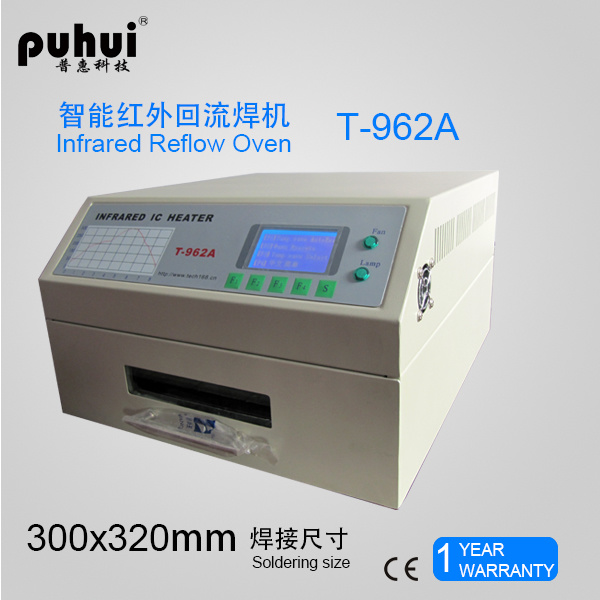 Features
(1) A large infrared soldering area
Drawer panel area: 300*320mm; this increases the usage range of this machine drastically and makes it an economical investment.
(2) Choice of different soldering cycles
Parameters of eight soldering cycles are predefined and the entire soldering process can completed automatically from Preheat, Soak and Reflow through to cool down.
(3) Special heat up and temperature equalization with all designs
Uses up to 1500 Watts of energy efficient Infrared heating and air circulation to re-flow solder.
(4) Ergonomic design, practical and easily operated
Good build quality but at the same time light weight and a small footprint allows the T962A to be easily bench positioned transported or stored.
(5) Large number of available functions
The T962A can solder most boss eyed or double face PCB boards small parts, for example CHIP, SOP, PLCC, QFP, BGA etc. It is the ideal rework solution from single runs to on-demand small batch production.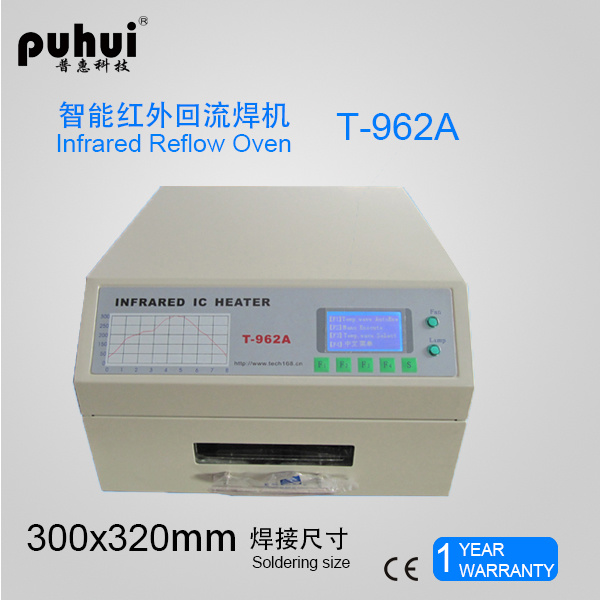 962/962A/962C



Choose wave according to your solder paste
we provide eight different waves, please choose one according to your request. Press the F1/F2 to choose different wave, press F3 to look into different wave parameter, press 4 to confirm the wave you chose.
Wave one for 85Sn/15Pb 70 Sn/30Pb
Wave two for 63Sn/37Pb 60 Sn/40Pb
Wave three for Sn/Ag3.5; Sn/Cu 75 Sn/Ag4.0/Cu.5
Wave four for Sn/Ag2.5/Cu.8/Sb.5; Sn/Bi3.0/Ag3.0
Wave five with the red gum standard is solid to turn temperature wave,Heraeus PD955M.
Wave six & seven & egiht with The PCB circuit board returns to fix etc.
Wave seven & eight, set-up by yourself.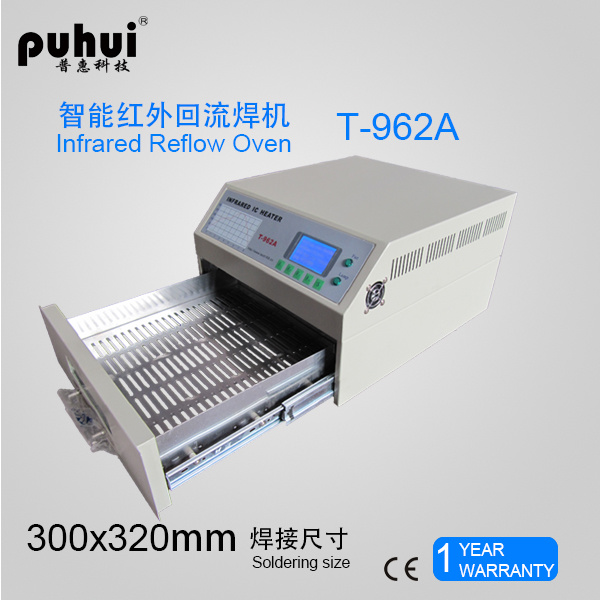 Warranty


Warranty - the main body maintains for one year and the spare parts maintains for three months.




Service - provide the immediate network online Q/A and the technical advisory network service




We are the ONLY and ORIGINAL manufacturer - Taian Puhui
Please contact us for good price and more details.
Company Information
Tai'an Puhui Electric Technology CO., LTD.

Established in 2007,our company is a professional manufacturer engaged in the research, development, production, sale and service of BGA Rewok Station, Infrared Reflow Oven, Microcomputer Electronic heating plate, LED Light Welding Machine. We are located in the chest at the foot of Mount Tai, Qingdao, according to Hong Kong for less than 300 kilometers.
Dedicated to strict quality control and thoughtful customer service, our experienced staff members are always available to discuss your requirements and ensure full customer satisfaction. In recent years, our company has applied for 16 patents. In addition, we have attained CE certificates.
Selling well in all cities and provinces around China, our products are also exported to clients in such countries and regions as Europe and America, Australia, Southeast Asia. We also welcome OEM orders.
To learn more about what we can do for you, contact us at any time. We look forward to establishing a good and long-term business relationship with you.


Tai'an Puhui Electric Technology Co.,Ltd.
Tel:0538-6138575
Phone:86-18865488820
Website: http://taianpuhui.en.made-in-china.com/