ZSW Series Vibrating Feeder/Professional Vibrating Feeder/Powder Feeder
Vibrating feeder is mainly used for continuously and evenly feeding materials for coarse crusher and screening fine aggregate so that enhance crusher capacity. Transfer the large size materials and granular materials from hopper to receiving device uniformly, periodically and continuously in the production flow. The vibrating feeder is widely used to match the crushing and sieving equipment in many industries including metallurgy, coal mine, mineral dressing, building material, chemical, grinding, etc.
ZSW Series Vibrating Feeder is mainly used to feed material into primary crusher evenly and continuously. Meanwhile, it can screen material and strengthen the capacity of the crusher.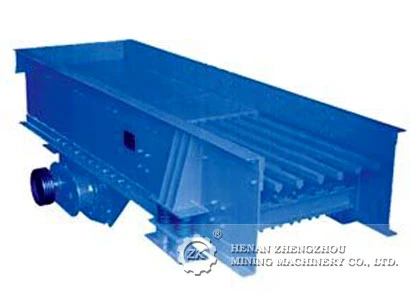 Feature
(1)Smooth vibration
(2)Special bar to prevent the block of row material
(3)The distance between bars is adjustable
(4)Stepless speed-regulated motor which could be additionally mounted so as to control the feeding capacity without frequent star-up of motor.
Working Principle:
ZSW series vibration feeding machine consists of the trough, the exciter, the spring support and the transmission gear. The vibration feeding is actuated by the exciter, which is made of two eccentric shaft (main shaft and auxiliary shaft) and gear par. The motor drives the main shaft whose gear engages with the auxiliary shaft to produce rotation. The main shaft and auxiliary shaft rotate inversely. The trough vibrates to make material flow constantly and enables uniform feeding and coarse grade sieving.
Product Characteristics:
The machine has stable vibration, reliable operation and long service life. It can adjust the excitation force and change and control its current at any time. The adjustment is convenient and stable. Vibration feeding machine uses inertial exciter to produce driving force with low noise, low power consumption, good regulation without stamping. It is simple, reliable, and easy to install and maintain.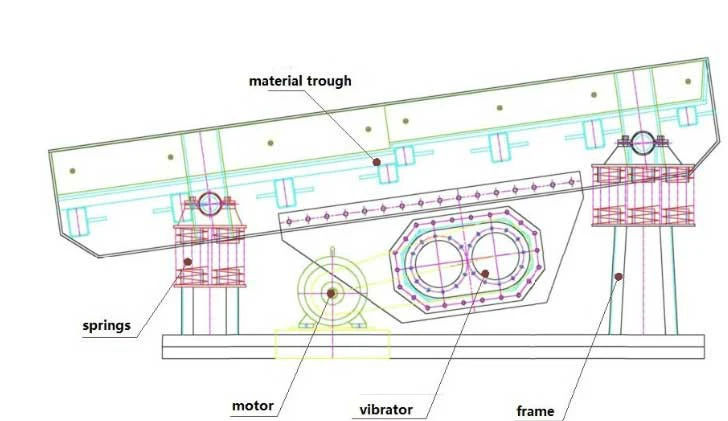 Company Name:

Henan Zhengzhou Mining Machinery Co., Ltd.


Official Website: http://hnzkjq.en.made-in-china.com/ & http://hnzkjq.en.made-in-china.com/
24-hour Free Sales Consulting Phone: 861-0371 -5590 2866.
Company Address: Qiaolou caizhai industrial estate, Xingyang city, Henan Province
Please pay attention to the company's other products:
Price of rotary kiln: http://hnzkjq.en.made-in-china.com
Rotary Kiln: http://hnzkjq.en.made-in-china.com
Preheater: http://hnzkjq.en.made-in-china.com
Cement Mill: http://hnzkjq.en.made-in-china.com
Rotary Dryer: http://hnzkjq.en.made-in-china.com
Raw Mill: http://hnzkjq.en.made-in-china.com
Ball Mill: http://hnzkjq.en.made-in-china.com
model

max feed size(mm)

capacity(t/h)

motor power

size of funnel(mm)

(kw)

ZSW-380×95

500

96-160

11

3800×950

ZSW-490×95

500

120-240

11

4200×950

ZSW-490×110

580

120-280

15

4900×1100

ZSW-490×110

600

200-350

22

5900×1100

ZSW-600×130

750

400-560

22

600×1300
Our service: Training & Service
Pre-sale services: enthusiasm
We provide you with the prophase plan, process flow design and manufacturer equipment,
according to your special demand.
Sale services: servant
Send technicians to the jobsite for guiding the installation and adjustment, training operators
and finishing the check and accept together with you.
After-sale services: faithfulness
To establish long term friendship, we will regularly pay return visit to customers.
In addition, we provide one-year warrantee to make sure your machine runs consistently. We always keep certain inventory level of spare parts, which means the replacements can be shipped to you right away.
Welcome to visit our company and workshop, we sincerely look forward to cooperating with you. We will provide you with the most suitable products with the reasonable price.